Toni Wilen has released the newest version of Amiga emulator for Windows WinUAE. The new hardware is supported right now: graphics cards with chipset S3Trio, S3Virge and Voodoo 3 as well as GVP accelerators. We have new JIT and support for FloppyBridge. The full list of changes is available here.

Added: 2021-12-17 14:55, Author: st, Category: Software Comments »
Marcus "ALB42" Sackrow has created his first YouTube client for 68k - AmiTube in version 0.5 works in MUI and could search using ULR and key words. Just after we have a conversion to CDXL (OCS and AGA) or MPEG1. Such video is next ready to be displayed using AGABlaster or RiVa.

Added: 2021-12-17 14:44, Author: st, Category: Software Comments »
Amiga TV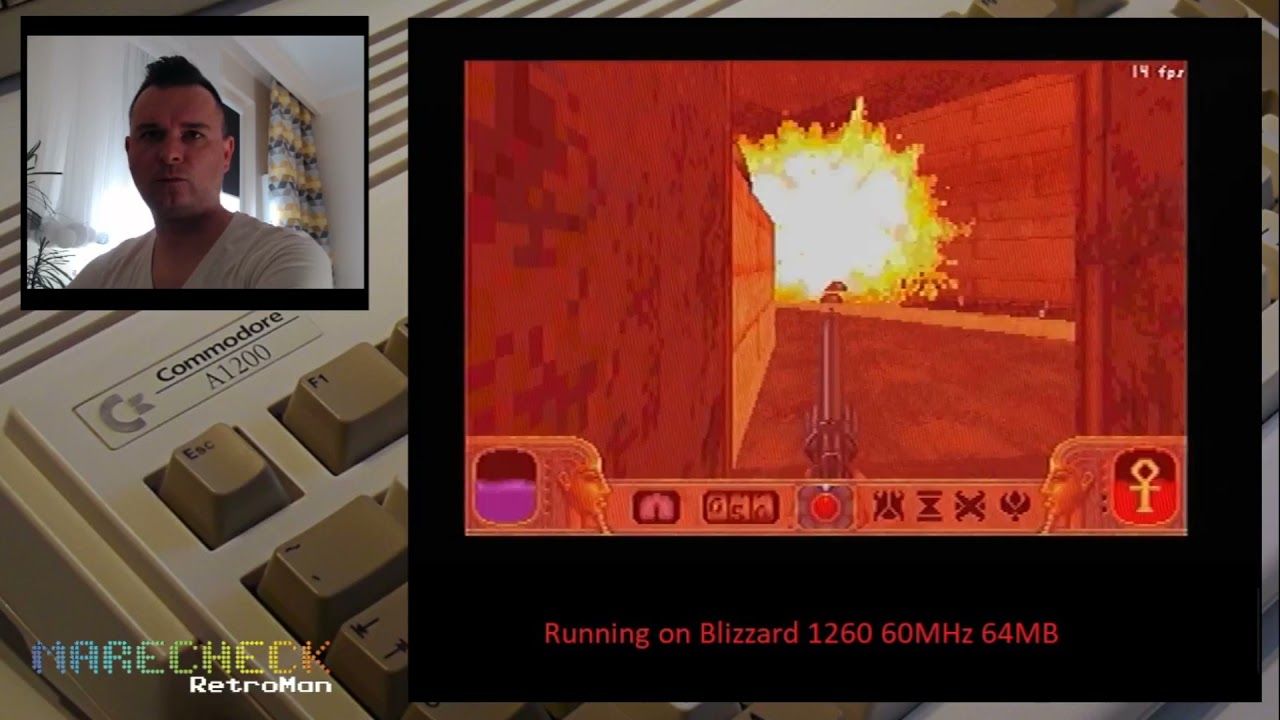 Turrican Remixes

Bert "D4XX REMIX" Bruggemann has released album Turrican Remix Album Best of Turrican Remixes Vol.1 (cost: 1 euro or more). This album contains 12 new versions of songs created by Chris Hulsbeck for Turrican game.
Amiga Addict 9 with Alien Breed

The British Amiga magazine - Amiga Addict has been released as issue #9. We have there celebration of 30-th anniversary of Alien Breed game (6 pages). Beside this we have there review of book "From Vultures To Vampires". Cost of digital version: 4,5 pounds.
Robert "Phibrizzo" Krajcarz has updated (LHA amd ADF) his Tetris clone named "Choctris, which has been released during RetroKomp 2018. We have the new game modes and there is included module player by Frank Wille - Amiga could play musics and sound FX within the same time.

Added: 2021-12-17 12:45, Author: st, Category: Games Comments »
Hans talks about FTP

Hans de Ruiter (ZitaFTP Server) wrote and recorded a video about FTP - File Transfer Protocol and the next versions: FTPS, SFTP and TFTP.
The new issue of "Komoda & Amiga +" magazine has been released. This magazine is dedicated for all Commodore and Amiga fans. What's inside? As usually, lots of interesting articles, game reviews, interviews and many more.

In the Amiga section:

ArtPazz
Nostalgia versus Reality in music
AmigaOS 3.2
Supremacy
Turbo Srint
Turbo Tomato
WinUAE in practice. New life. Part II

In the shop you could purchase both printed and PDF versions. Languages: English and Polish.

Added: 2021-12-13 16:06, Author: st, Category: Magazines Comments »
Last time we wrote about the new ACA card with 030 processor. Retro32 has similar solution - TerribleFire TF1230. Prices from 170 pounds (64 MB RAM). On the card there is 50MHz processor as well as IDE port.

Added: 2021-12-04 11:09, Author: st, Category: Hardware Comments »
Amiga Forever 9 "R2"

Users of Amiga Forever 9 could upgrade their packages for free to version 9 R2. This update brings us better mouse and keyboard handling as well as Amiga hard drives. Windows 10 and Windows 11 are supported.
We are searching for people who would like to join as volunteers to eXec.pl. Would you like to write news, articles and create galleries? The whole work is coordinated using our Skype channel. You work when you have time - no obligatory. Contact: using this form.

Added: 2021-11-08 14:24, Author: redakcja, Category: Events Comments »
Amiga Addict 8

The British Amiga magazine - Amiga Addict has been released for the 8-th time. The most interesting things - interview with Eben Upton (Raspberry Pi foundation) and discussion regarding Amiga emulation with Sarah Thornton from Red Hat. Cost: 4,5 pounds for e-paper.
RapaGUI 2.1

RapaGUI is a plugin for Hollywood, which generates native GUI for AmigaOS (MUI), Windows, Linux (GTK) and Mac OS X systems. In version 2.1 we received number of bug fixes.
During AmiWest we saw two ready products: ES v 2.1 and the new vesrion of DvPlayer. We received info about start of working on Nova Bridge - another "bridge", which supports compatibility with starym Warp3D (so users are able to run the old games). Hans de Ruiter showed Wipeout 2097 on the new Radeon card - which is visible here.

Added: 2021-10-20 13:43, Author: st, Category: Software Comments »
DvPlayer V54

In AmiStore you could find the new version of DvPlayer (video player). Version V54 supports hardware acceleration of film decoding. All purchasers could also download the proper driver for graphics card RadeonHD SI. Box version should be availabe by the end of October 2021.
All owners of ES package v 2.0 could download the newest update for this tool using Updater. Version 2.1 contains the newer versions of RadeonRX drivers, update of libraries for hardware video decoding, new Warp3D Nova library, fixes in system commands and updated programs: : TuneNet, XDock and MultiViewer.

Added: 2021-10-20 13:07, Author: st, Category: Software Comments »
AQB is an idea of creation the new and modern BASIC (compatible with z AmigaOS). It based on FreeBASIC with number of additional Amiga commands. The project is available on GitHub.

Added: 2021-09-30 12:43, Author: st, Category: Software Comments »
In the newest issue (wrzesień/październik) of Amiga Future magazine you will find review of Dark Angel, Hollywood 9, A/Nes emulator and i AmigaOS 3.2 with Vampire bootloader. The magazine is available in German and English version. Cost: 7 euro or 9,90 euro (with CD).

Added: 2021-09-30 12:28, Author: st, Category: Magazines Comments »
Amiberry 4.1.5 RC

The new version of Amiga emulator for ARM computers (Raspberry Pi 3/4/400, RockPro64) is in progress. Currently you could test Release Candidate of version 4.1.5.
AmiSSL 4.10

AmiSSL is still updated. The last one has number 1.1.1l OpenSSL. Archive (OS3/4) is prepared by Jens Maus is available here.
If you use (as code developer) tools like Visual Studio Code or JetBrains, then you could use add-ons to improve your work on Amiga projects. For VSC there are Amiga E, C/C++, Blitz Basic 2, assembler and Hollywood add-ons. For JetBrains there is support for MC68000 assembler.

Added: 2021-09-24 11:36, Author: st, Category: Software Comments »
In 1998 TeamTNT has created Boom, which fixes errors and limitations of the original Doom, but without invading the game play. Mots of changes are not visible for gamer (like level creation options). We have number of WAD files prepared especially for Boom. NovaCoder has prepared port of this game for 68k. We have AGA and RTG versions.

Added: 2021-09-24 11:28, Author: st, Category: Games Comments »
How all of AMiga games would look like in AGA version? We have a chance to see it - there are two projects to enable it. the first one is to port Turrican 2 (MS-DOS version) to Amiga 1200. The work is in progress and here you could see how it looks like. The second project is already finished - Super Cars 2 AGA.

Added: 2021-09-23 11:40, Author: st, Category: Games Comments »
NEXT is the new album by XTD and it contains mainly songs created in 2021. It is available on his site in mp3 320 bit rate for everybody (to listen and download), and lossless (FLAC+CUE) for supporters.

Added: 2021-09-22 17:22, Author: st, Category: Events Comments »
Pacman 500 is a try of implementation 1:1 of classic Pac-Man game for Amiga 500. This game supports 50 frames per second and all classic graphics and sounds were moved to the new version. Source code is available on GitHub.

Added: 2021-09-22 16:53, Author: st, Category: Games Comments »
Deniser project is an idea of building Denise chipset replacement using FPGA. In repo you will find project of the board and source code for FPGA. How to install? Just remove original Denise from the socket and put there z Deniser board.

Added: 2021-09-22 13:59, Author: st, Category: Hardware Comments »
Pixel Heaven 2021

Pixel Heaven 2021 has took place in Warsaw's Film School and Elektronik cinema between 8-th and 10-th of October. The whole party agenda is there.
Dimitris Panokostas and Philipp Lonke created a compilation of software useful during any development for AmigaOS 3.x. It is called DevPack - the archive (lzx or hdf) is available on AmiKit webpage, but there is no dependencies with this package. What's inside? Compilers for different languages (C, AMOS, Pascal, Blitz, E), text editors, SDKs and other tools. More info in Readme file.

Added: 2021-09-03 23:19, Author: st, Category: Software Comments »
AmigaOS 3.2 on A500 (PiStorm)

On Epsilon's World blog you will find another entry regarding AmigaOS 3.2. This time there is more info of PiStorm on Amiga 500.
P96 3.1.1

Individual Computers has updated drivers for graphic cards Picasso 96. Changes are on mouse pointer, memory organization and program P96Mode.
Intro Frontier: Elite II writen once again

Mark Watson has done reverse engineering of game intro Frontier: Elite II - whole rendering code is writen once again as well as playing music. The code is available on GitHub and effect you could see here, in your browser.
RapaGUI is a plugin for Hollywood, which generates native GUI for AmigaOS systems (MUI), Windows, Linux (GTK) and Mac OS X. There is support for most important widgets of GUI elements, used in modern applications.

Added: 2021-08-18 23:29, Author: st, Category: Software Comments »
SnoopDOS 3.11

SnoopDOS (monitor of Amiga OS 3.x - ) has been updated to version 3.11. You could download it from Aminet.
A-Copy

A-Copy is a program similar to X-Copy and it allows to read/write disk images in ADF format on Windows. Requirements: floppy disk drive connected using Teensy USB Development Board.
Space Invaders (in Python)

The classic shooter Space Invaders has been written using Python 2.5.for AmigaOS 4. To be more precise: it is a port of "Lee Robinson's Space Invaders" with add-ons: full-screen mode, never-ending game, possibility to save hall of fame and music on the start screen.
No-CSS browser, IBrowse for Amiga is available in version 2.5.5. It is mostly fix update and covers also better performance, cookie block and detect of OS 3.2. Full list of changes is available here.

Added: 2021-08-16 23:42, Author: st, Category: Software Comments »
NDK 3.2 R3

We are waiting for a new SDK for AmigaOS 4.1, so let's take a look at new NDK (marked as R3) for AmigaOS 3.2. Archive file is available to download from Hyperion's website.
CD32 Screenpedia Encyclopedia

CD32 Screenpedia Encyclopedia is a description of all commercial games released for Amiga CD32 in the golden years. It contains screenshots, photos of covers and CDs as well as other materials. Cost of access: 7 pounds (PDF in better and lower quality).
Peter Keunecke has published the next version of icon.library. It is optimized to allows also slower computers (68k processors) display icons using bigger colours pallet (HAM is also available). This solution is not compatible with OS 3.2.

Added: 2021-08-13 15:31, Author: st, Category: Software Comments »
The AHI driver for AmigaOS 4 (it handles PCI music cards compatible with Intel HD Audio (Azalia)), has been updated to version 6.8.

Added: 2021-08-13 15:11, Author: st, Category: Software Comments »
Ambermoon has been released in 1993 for Amiga by Thalion Software. It was the second part of unfinished trilogy (the first one was Amberstar). Within this time it was great RPG game with 3D graphics.

Added: 2021-08-13 14:43, Author: st, Category: Games Comments »
Sonic Vamped 2

Sonic Vamped 2 is a port of Android game "Sonic The Hedgehog 2" released in 2013 for Amiga 68k and optimized for Vampire V4. It contains lots of improvements, like AMMX handling, SAGA support (triple buffer). It allows to play using 60 frames/second.
Amiga 500 Puzzle

Bitronic offers a puzzle. with picture of Amiga 500 motherboard. It contains 192 pieces (dimensions: 40,5x28,5 cm). Price: 11 euro plus shipping.
Simone "saimo" Bevilacqua develops his game MeMO, so just a memory fun game. On the cards we could see graphics from Amiga games. Requirements: system 2.04, 68020 processor and ECS chipsetu. You could play using keyboard, joystick or joypad (CD32 is supported). Here you can download files lha, adf and ISO.

Added: 2021-08-10 19:43, Author: st, Category: Games Comments »
AmigaOS 3.2 on A1200 (Epsilon's blog)

On Epsilon's World blog you could find review of AmigaOS 3.2 on Amiga 1200. Lots of photos, as usual including process of ROM exchange.
Video - quiz: names of Amiga creators

LemonTubeAmiga has decided to record a video-quiz. You have an opportunity to check if you know all Amiga bcreators and engineers. So let's try!
QEMU 6.1 (Pegasos II emulation)

Emulator QEMU in the newest version will contain Genesi/bPlan Pegasos II emulation.Currently RC1 of Qemu 6.1 is available.
RULE 30 by Andromeda

The new Rule 30 Andromeda demo has been released (1-st place in Gubbdata party in 2021). Rule 30 is the oldschool demo for classic Amiga made by Archmage, Hyde and Interphace.
New ACube Systems shop

ACube Systems announced start of their new webshop with ACube products. It is available here:shop.acube-systems.biz.
Editor of levels for Lemmings game

RMC - The Cave channel has published video, which shows found unreleased editor of levels for Lemmings.
Goal! for free

A footbal game Goal! (released in 1993 by Dino Dini/Virgin Games) is available for free from Amiga Future service as ADF and IPF, WHDLoad. You could dowload also instruction in PDF format.
In the newest issue (July/August) of Amiga Future you could find reviews: AmigaOS 3.2, Inviyya, ApolloOS Release 6 or AmiKit XE dla Raspberry Pi 4 / 400.

This magazine is available both in German and English. Cost: 7 euro (or 9,90 including CD).

Added: 2021-07-27 16:21, Author: st, Category: Magazines Comments »
Claude Schwarz works on PiStorm - it is a chip, which allows to connect Raspberry Pi to processor socket of A500, A1000 or A2000 and (using Linux) run fast 68k emulation. What's more - RPi could be used also as graphic card, not only CPU. There are plans to allow Amiga access to other RPi components, like WiFi, LAN or USB.

Added: 2021-07-27 14:48, Author: st, Category: Emulation Comments »
In June we received several small improvements for AmigaOS 4.1 in AmiUpdate. Here you could see list of changes. It looks like a better way comparing to big, "final" versions of 4.1.

Added: 2021-07-02 16:27, Author: st, Category: AmigaOS Comments »
HippoPlayer 2.46beta

Just after 21 years Kari-Pekka Koljonen has published a new version of his MOD player - HippoPlayer. Version 2.46beta focuses mostly on stable and bug fixes. We have there also small improvements.
The small version of (Mini-ITX format) Checkmate 1500 Plus case is available for purchase both in white and black versions. Cost = 210 euro.

Added: 2021-07-01 11:11, Author: st, Category: Hardware Comments »
RedPill 0.8.11

RedPill is a tool (made by Carlos Peris) to build games for classic Amiga. It is compatible with AGA and ECS and his player requires 2 MB Fast RAM. Version 0.8.11 has been released.
SnapIT 1.5

SnapIT is a simple program written Stefan Blixth to get screenshots (with MUI interface). In version 1.5 we have some bug fixes and new templates.
amigaremix.com - new mp3

On webpageAmigaRemix we could find some new mp3 files with remixes of Amiga games music. Here you have list of new music:
Trixie on his blog writed how he was traveling to Cieszyn, where he could Polish computer magazines, like Bajtek. Next he describes Amiga NG magazine published by Adam Mierzwa.

Added: 2021-06-30 20:05, Author: st, Category: Journalism Comments »
Arduino Floppy Disk is a way to read/write Amiga floppy disks on PC using Arduino. The schema of such connection is available on project's webpage. What's important, since version 2.5 we have a direct connect to Amiga disks on WinUAE - (here we have such preliminary version.

Added: 2021-06-30 19:55, Author: st, Category: Hardware Comments »
ALS means AMOS Layers System, because it changes screens in AMOS into layers, which we could put one into other (with full control of order, colors and transparency). No additional installation is needed - ASL is available as set of tables and procedures (kind of AMOS library). It is developed since 2020 and in June 2021 version 1.94 has been released.

Added: 2021-06-30 19:46, Author: st, Category: Software Comments »
AmiKit XE 11.6.0 for RPi

AmiKit XE for Raspberry Pi 4/400 has been updated to version 11.6.0. The full list of changes (both on AmigaOS and Linux) you could find here. The most important changes - support for AHI (AmigaOS) and Bluetooth (Linux).
BarsnPipes for OS4 (version 1.0)

MIDI sequencer BarsnPipes has been updated after 10 years of break and compiled to version 1.0 for AmigaOS 4.1 FE by main creator of this program - Alfred Faus.
Trevor Dickinson (A-Eon) wrote on his blog the first text in 2021. He focused mostly on the new book "From Vultures to Vampires", which he creates with David Pleasance.

Added: 2021-06-18 15:18, Author: st, Category: Journalism Comments »
CS-Lab company is preparing launching of the new firmware to card 1260 (version 1.10). Due to lack of components, cards WARP 3060/4060 will be finished in 2022.

Added: 2021-06-17 14:23, Author: st, Category: Hardware Comments »
Artur Gadawski from 7-bit works on Amigi 1200 accelerator named "Wicher 1220". Currently this card is in the beta test phase. Configuration: MC68EC020 25MHz/33MHz, 11MB Fast Ram (16MB SDRAM), SPI-Controller, RTC, microSD reader and Ethernet controller. We received also updated software for Wicher cards - AmigaOS3.2 handling.

Added: 2021-06-17 14:09, Author: st, Category: Hardware Comments »
Owners of Enhancer Software package (additional software for AmigaOS 4) could received some updates lately. In the list we have commands Version i Copy. Version ES 1.5 will receive also update of command List as well as AmiPDF and X-Dock.

Added: 2021-06-11 15:01, Author: st, Category: Software Comments »
Polska company Elbox offers new tower case for Amiga 1200 named BlackBOX 1200 MK-II. It allows to use PCI cards and 350W ATX supply. In the set there is also interface PC/Amiga keyboard and cooling system with two fans. Dimensions: 465 mm x 205 mm x 445 mm. Cost: ca. 320 euro.

Added: 2021-06-11 14:39, Author: st, Category: Hardware Comments »
Do you think about AmigaOS 3.2 purchase? Please take a look at official FAQ as text file on Aminet. Hyperion released updated version of R2 for NDK (Native Developer Kit). Just below you could find how AmigaBill talks about 13 the most important changes in AmigaOS for classic.

Added: 2021-06-10 16:01, Author: st, Category: AmigaOS Comments »
RNOArchive is a program to pack, unpack and modifying archives in ZIP or XAD formats. This program supports UTF-8 coding. Here you could see how it works.

Added: 2021-06-10 15:46, Author: st, Category: Software Comments »